5 Bedroom Cabins
Our Black Hills cabins are conveniently located in western South Dakota near famous attractions such as Mount Rushmore, Crazy Horse Memorial, Custer State Park, and historic Deadwood. The Black Hills offers excellent opportunities for fishing, hunting, hiking, or just a relaxing time in the beautiful Black Hills surroundings together with family or friends. Fun seasonal activities such as snowmobiling, horseback riding, fishing, biking, and skiing are also available in the area. Panning for gold in historic Lead is a great activity for the entire family! Click here for more information about Black Hills attractions and activities. Our spacious 5 bedroom cabins are perfect for family reunions, work retreats, wedding lodging, or any other get-together that requires a little extra space.
Featured 6+ Bedroom Cabin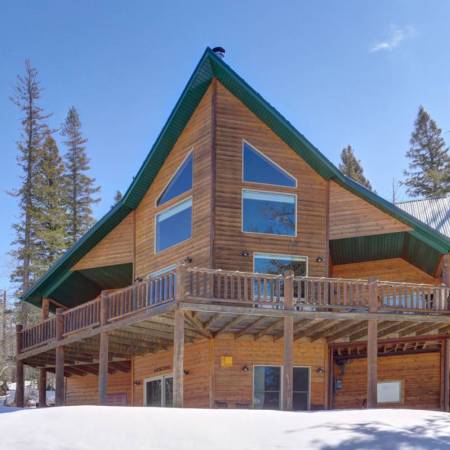 Mystic View Lodge
This spacious 5 bedroom is perfect for larger groups and families, as well as your pets! Fully stocked with all the necessary amenities, this is your new home away from home. Whether you lounge on the deck or soak in the hot tub be sure to take in the bre ... More Info
Some of our 5 bedroom cabins have luxury amenities such as hot tubs, grills, WIFI, fireplaces and satellite TV for you to enjoy. All of our Black Hills cabins are non-smoking and equipped with kitchen supplies, bed linen, and towels.
Get close to South Dakota wilderness in the comfort of our modern, inviting Black Hills cabins. Retreat after long days of adventure and fun in the Black Hills and enjoy time with your loved ones.
For booking call
605-578-2342
for online booking visit our cabins page